My Blog
Posts for: February, 2019
By Linden Dental
February 16, 2019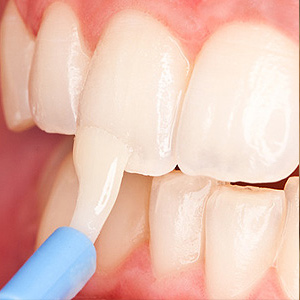 We've known for decades that fluoride strengthens tooth enamel and lowers the risk for decay. And while adding it to toothpaste and drinking water are the more common ways for getting it into the body, an increasingly popular way—especially for children—is to apply fluoride directly to the teeth.
But is topical fluoride really worth the effort and expense? And, are there any side effects to treating teeth this way?
As to the first question, researchers have performed numerous studies measuring fluoride's effectiveness for preventing tooth decay. The Cochrane Oral Health Research Group recently reviewed studies on topical fluoride applications involving nearly 10,000 children and adolescents between the ages of 2 and 15. The combined average for all the studies showed a 28% reduction in decayed teeth for patients who received topical fluoride compared to those who didn't.
This was especially true for children at high risk for decay: directly applying fluoride gels, foams or varnishes to teeth reduces that risk substantially. But there are also side effects to this application. Fluoride in general has only one known safety concern, a condition known as fluorosis. Too much fluoride over time can cause heavy discoloration of the teeth. This does not affect the health of the teeth, but it can look unattractive and require cosmetic treatment to reduce its effect.
There's little to no risk for fluorosis with the controlled treatments offered by dentists; the fluoride solution remains on the teeth no more than a few minutes. But there is a possible side effect during treatment due to the relatively high dose of fluoride used. If the patient accidentally swallows some of the solution, the concentration of fluoride can cause stomach upset, vomiting or headaches.
Dentists minimize the chances for this by usually using the more difficult to swallow varnish form of topical fluoride on younger patients, and using trays or other barrier devices to isolate the fluoride solution from the rest of the mouth. Under professional supervision, it's rare for an accidental ingestion to occur.
The risks for these side effects are quite low, and the benefits of topical fluoride for reducing the chances for decay can more than outweigh them. Fluoride applications are one of many ways we can protect your child's current and future dental health.
If you would like more information on decay prevention techniques like topical fluoride, please contact us or schedule an appointment for a consultation. You can also learn more about this topic by reading the Dear Doctor magazine article "Fluoride Gels Reduce Decay."
By Linden Dental
February 06, 2019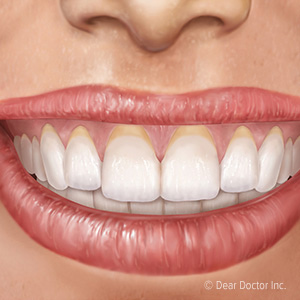 A "toothy grin" might be endearing, but not necessarily healthy. More of the teeth showing may mean your gums have pulled back or receded from the teeth. If so, it's not just your smile that suffers—the parts of teeth protected by the gums could become more susceptible to disease.
There are a number of causes for gum recession. Some people are more likely to experience it because of genetically thinner gum tissues. Over-aggressive brushing could also contribute to recession. But the most common cause by far is periodontal (gum) disease, a bacterial infection triggered by dental plaque accumulating on teeth mainly as a result of inadequate hygiene.
There are some things we can do to help heal and restore recessed gums, most importantly treating gum disease. The number one goal of treatment is to uncover and remove all dental plaque from tooth and gum surfaces, which can take several sessions and sometimes minor surgery if the infection has reached the tooth roots. But removing plaque and tartar (calcified plaque) is necessary to stop the infection and allow the gums to heal.
For mild recession, this may be enough for the gums to regain normal coverage. But in more severe cases we may need to help rejuvenate new tissue with grafting surgery. In these highly meticulous procedures a surgeon uses microscopic techniques to position and attach donated tissue to the recession site. The graft serves as a scaffold on which new tissue growth can occur.
While these treatments can be effective for reversing gum recession, they often require time, skill and expense. It's much better to try to prevent gum recession—and gum disease—in the first place. Prevention begins with daily brushing and flossing to prevent plaque buildup, as well as regular dental visits for more thorough cleanings. Be on the lookout too for any signs of a beginning gum infection like swollen, reddened or bleeding gums and see your dentist as soon as possible to minimize any damage to your gums.
Caring for your gums is equally as important as caring for your teeth. Healthy gums equal a healthy mouth—and an attractive smile.
If you would like more information on preventing gum recession, please contact us or schedule an appointment for a consultation. You can also learn more about this topic by reading the Dear Doctor magazine article "Gum Recession."