My Blog
Posts for tag: dental implant
By Linden Dental
May 27, 2020
Find out if you could benefit from getting this popular tooth replacement.
After losing a tooth the wisest decision you can make it to replace it. Of course, the sooner you can replace your tooth the better for the long-term health of your smile. No matter if you are missing, one, two, several, or even all of your teeth, our Naples, FL, dentists Drs. Richard and Maria Linden can restore your smile with dental implants. Wondering what kind of benefits this artificial tooth can offer you?
Here are the top benefits of getting dental implants,
Prevent Bone Loss
One of the most serious issues associated with tooth loss is the deterioration of the jawbone. This occurs over time as a result of missing tooth roots. Since the jawbone isn't getting the stimulation it needs it will begin to lose density and shrink. This will also cause changes to your face including sunken cheeks and a receding jawline; however, our Naples, FL, restorative dentists can replace the missing roots of your teeth with implants, which will stimulate the jawbone in the same way and prevent bone loss.
Prevent Shifting Teeth
If you leave gaps in your smile and you don't replace your missing teeth you better believe that the rest of your natural teeth will shift into those open gaps. This is because, as the jawbone shrinks there isn't as much room for your teeth. This means that teeth will gradually move into those gaps, which can cause even more gaps between teeth, as well as crowding and crookedness.
Feel More Confident
The only person who will ever be able to tell that you have one or more dental implants is you (unless, of course, you go ahead and show off your implants). The only visible portion of the implant is a dental crown that is custom-made to resemble the color, shape, and size of your missing tooth so that it blends right in. We pride ourselves on creating dental restorations that look and feel just like the real thing.
Restore Your Entire Smile
Implants aren't just for people who are missing a single tooth; implants are for any healthy adult who is missing at least one tooth. In fact, for traditional implants, we can place anywhere from six to eight implants along the upper or lower jawbone to replace all of your missing teeth. There are also dental implant systems that only require four dental implants to replace all of your missing teeth. Even if you are a current denture wearer you could still benefit from getting dental implants to support your false teeth (it's never too late).
Are you ready to find out if you're an ideal candidate for dental implants? If so, then turn to our family dentists here at Linden Dental, P.A. in Naples, FL, to learn more. To schedule a consultation call (239) 593-0777.
By Linden Dental
June 30, 2014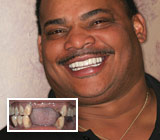 This is the story of a well-known man, fearless in most respects, who was afraid of the dentist. Even though his fears had resulted in neglect and serious damage to his teeth, modern dentistry and a talented dental team were able to restore his smile to health. If you share this fear, his story may inspire you to take action.
We're talking about William Perry, former defensive lineman and fullback for the Chicago Bears. Here is a man who could fearlessly face a football squad — but not a visit to the dentist. Nicknamed "The Refrigerator" for his 380-pound massive frame, Perry played for ten years in the NFL before retiring in 1994. Since retiring he founded and operated a construction company in South Carolina in addition to making celebrity appearances.
With his celebrity in mind, a team composed of a talented restorative dentist, implant surgeon, and lab technician agreed to give "The Fridge" a makeover. After discussing modern technology and virtually pain-free dentistry with him, they managed to overcome Perry's fears. "I had been in constant pain for many years and I neglected myself, not having had any dental care for over 20 years, not even emergency care. Unfortunately, as I grew older my teeth started to get loose," Perry told an interviewer. He had lost many teeth and became known for his gap-toothed smile.
Perry had severe gum disease and many of his remaining teeth were loose. In the past his only option would have been a full set of dentures. But his new dental team was able to place dental implants (permanent tooth replacements) supporting fixed bridges. In most cases dental bridges are attached to healthy teeth, but in Perry's case the implants served as anchors for the bridges. They also stabilized his jawbone, which would otherwise "resorb" or melt away after his teeth were lost. This is important because it helps preserve the contours of his face.
After careful planning "The Fridge" had eight dental implants placed in his upper jaw and seven in his lower. The final bridgework was completed four months later. It turned out that even though the gap between his teeth had become his trademark, "the Fridge" never really liked it. He was thrilled with his new smile.
Even if you have some fears, don't hesitate to follow Perry's example and make an appointment with us for a consultation about dental implants, smile makeovers, or bridgework. For more information about William "The Refrigerator" Perry, see the Dear Doctor magazine article "How Immediate Implants Saved 'Refrigerator' Perry's Smile."