My Blog
Posts for: September, 2014
By Linden Dental
September 24, 2014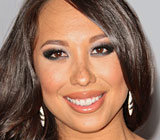 If you've ever watched Dancing with the Stars on television, you've no doubt noticed the vivacious and talented Cheryl Burke, whose ballroom dance moves are as captivating as her bright smile. In fact, Cheryl considers her smile to be one of her most important assets as a professional dancer.
"As a performer, you're basically smiling the whole time," Cheryl told Dear Doctor magazine recently in an exclusive interview. "It's just really important to take care of your teeth and have a great smile."
Cheryl is very conscientious about caring for her smile, but that wasn't always the case. In the Dear Doctor interview, Cheryl revealed that her teeth suffered from ineffective oral hygiene when she was younger. "I definitely had my share of cavities," Cheryl recalled, adding that she believed this was her own fault. "I didn't use floss," She explained. "I think when you do floss frequently, it helps to reduce the chances of getting cavities. It took me a while to figure it out."
Once Cheryl did figure it out, she was able to make cavities a thing of the past. But in order to make sure the effects of her prior tooth decay did not mar her lovely smile, she made sure her dentist — who is also her stepdad! — gave her tooth-colored fillings that could not be distinguished from the surface of a natural tooth. "It's important for me," Cheryl said.
Lots of dental patients feel the same way, even if they don't spend time in front of television cameras. That's why the dental profession has developed tooth-like materials such as composite resins and porcelains that mimic natural tooth material exactly. These materials are also suitable for children's teeth and can incorporate fluoride to reduce tooth decay. It's even possible to replace old silver-colored fillings with these newer dental materials.
If you would like to learn more about tooth-colored fillings, please contact us to schedule an appointment for a consultation. To read Dear Doctor's entire interview with Cheryl Burke, please see "Cheryl Burke." Dear Doctor also has more on "The Natural Beauty of Tooth-Colored Fillings."
By Linden Dental
September 09, 2014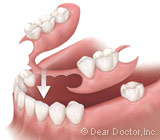 While dental implants are the preferable choice for teeth replacement, your life circumstances may cause you to postpone it or some other permanent restoration. In the meantime, you need a temporary solution for your tooth loss.
Removable partial dentures (RPDs) have met this need for many years. RPDs are traditionally made of rigid, acrylic plastic resin and fasten to existing teeth with metal clasps. While effective as temporary tooth replacements, RPDs do have their drawbacks: they can be uncomfortable, develop a loose fit and are prone to wear and staining.
Recently, though, new RPDs made of a flexible type of nylon are addressing some of these drawbacks. Because the nylon material is thermoplastic (able to change shape under high heat), it can be injected into a cast mold of a patient's mouth to create the denture base, to which life-like replacement teeth are then attached. And rather than a metal clasp, these RPDs have thin, finger-like nylon extensions that fit snugly around existing teeth at the gum line.
The new RPDs are lightweight, resistant to fracture and offer a more comfortable, snugger fit than the older RPD. And because the nylon material can be made to closely resemble gum tissue, the base can be designed to cover receding gum tissue, which may further improve the appearance of a patient's smile.
On the downside, these new RPDs are difficult to reline or repair if they're damaged or the fit becomes loose. And like all RPDs, they must be regularly removed and cleaned thoroughly to prevent any accumulating bacterial biofilm that could increase the risk of gum disease or tooth decay (the attachment extensions are especially susceptible to this accumulation). They should also be removed at night, since the reduction in saliva flow while you sleep can worsen bacterial buildup.
Still, the new flexible RPD is a good choice to bridge the time gap between lost teeth and a permanent restoration. They can restore lost function and improve your smile during the transition to implants or a fixed bridge.
If you would like more information on temporary tooth replacement, please contact us or schedule an appointment for a consultation.